Every aspect of the medical field is designed to enhance the overall health of patients. While it may not be top of mind when running a clinic or healthcare facility, it's crucial that providers and their teams understand the importance of information technology in the healthcare industry. Not only will it help providers stay HIPAA compliant, but it will provide a better experience for your patients while keeping them and their information protected.
Information technology plays a huge role in healthcare. It helps to protect patients' privacy and aids in research if consent is given. It can also help prevent adverse reactions to medications, share life-saving information, and decrease an organization's risk of cyberattacks.
Why Information Technology in Healthcare Matters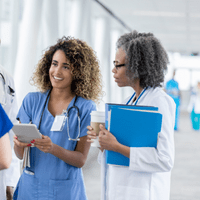 For many patients, technology in the healthcare industry only extends as far as their appointment. Medical professionals know better. They understand that information technology in healthcare plays a huge role in a patient's health and overall patient safety. Test results and other patient data must be protected to reduce errors and provide the best care possible.
That's why information technology in healthcare matters so much. The patient information stored in electronic health records (EHRs) aids in improving the quality of care every patient receives. These electronic medical records act as a history and a guide. With every update, they help aid in improving patient care and increasing patient satisfaction.
The data provided by information technology in healthcare can help you and your staff to:
Safeguard patients' privacy

Perform data collection and research

Prevent adverse reactions to medications

Share data with other providers

Cut down on medical errors

Keep track of patient compliance

Make better diagnoses

View records and test results
Safeguard Patients' Privacy
Patient privacy is of the utmost importance in the medical field. The 2003 HIPAA Privacy Rule set strict rules so that patient information is protected. Later on, the 2009 Electronic Medical Records and Reinvestment Act required that medical records be electronic. Together with other legislation, it is extremely important that patient records be kept safe in a digital format.
Prevent Adverse Reactions to Medications
According to the Centers for Disease Control (CDC), yearly adverse drug reactions result in:
1.3 million visits to the emergency room

350,000 hospitalizations 
This serves to highlight why information technology in healthcare is so important. With health information technology, medical staff can easily keep track of what a patient is being prescribed as well as other medications and health conditions. This significantly reduces the risk of an adverse reaction and can help save lives.
Share Data with Other Providers
Doctors often have to share a patient's medical information in order to provide effective treatment. For instance, time is of the essence when a patient has been in a car wreck. An emergency room surgeon is able to perform life-saving treatment much more easily when they can access the patient's digital records while avoiding anything that could make things worse.
Cut Down on Medical Errors
Easy access to patient records means that you and your team are much less likely to make a mistake. According to a study from Johns Hopkins, medical errors are the third-leading cause of death in the United States. As an under-recognized cause of death, it's important that healthcare information technology be utilized regularly to prevent more from occurring.
Keep Track of Patient Compliance
Ensuring patients are following instructions can be one of the hardest aspects of being a healthcare provider. With patient monitoring, you can keep track of when patients have their prescriptions filled or undergo prescribed tests. If not, you can follow up with them to explain the importance of following your instructions and why it's essential for maintaining good health.
Make Better Diagnoses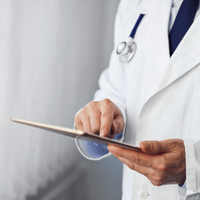 Being able to share patient information between healthcare providers does more than prevent poor reactions to medications. It allows them to communicate symptoms and potential causes of an ailment. By having more communication and input between general practitioners and specialists, patients have a better chance of receiving the correct diagnosis in a timely manner.
View Records and Test Results
Healthcare practices have access to different types of software that allow them to keep track of a patient's progress. These electronic medical records are an essential part of information technology in healthcare. They allow anyone with access to view and assess them, giving them the ability to determine what kind of care will be best for every individual patient.
Perform Data Collection and Research
Researchers can collect data to aid in creating new treatments and medicines. However, this can only be done with the permission of the patient. One example would be high blood pressure. A researcher can determine who has high blood pressure and find patients to participate in a study. If the patient approves, they can share their information to help with research.
Are you looking for enterprise-level IT to move your healthcare business forward?
Contact us today
to start a conversation!
The Risk of Ransomware Attacks in the Healthcare Industry
Data is a crucial part of providing care for patients, but one area of a health facility's IT that can easily get overlooked is the security of their software and technology. Using an EMR software from twenty years ago could make or break a patient's experience. Outdated software and technology make it easier for ransomware attacks. 
Ransomware groups are specifically targeting healthcare organizations due to the urgency of patient care. Health systems and provider groups have more at stake during a ransomware attack. If technology fails or doesn't function correctly, and delivery of healthcare is disrupted, it could legitimately be a life or death situation. Due to this, ransomware groups see healthcare organizations as ripe opportunities for their demands to be met. 
A study led by the University of Minnesota resulted in some alarming data about ransomware attacks in the healthcare industry:
Ransomware attacks in the healthcare industry more than doubled

between 2016 and 2021

Over

44% of these attacks

disrupted the delivery of healthcare in those organizations

Only 1 in 5 healthcare organizations

reported the ability to restore data from backups

The most common disruptions included ambulance diversion, system downtime, and appointment cancellations
Who is the most vulnerable to ransomware attacks in the healthcare industry?
Based on the University of Minnesota's study, large health systems with multiple locations and facilities have been some of the most targeted organizations by ransomware groups. But there is a trend that cybercriminals have started targeting smaller organizations who may think they don't have the budget to proactively increase their cybersecurity.
This is why it's so crucial for any healthcare organization, no matter how big or small, to ensure they have the right measures in place for such cyberattcks. Cybercriminals can strike anywhere, and at any time. This is one reason why many organizations choose to outsource management of their IT and cybersecurity. Sometimes having the right team of experts coupled with the right technology is the perfect combination for protecting your organization. Ultimately providing your patients with a better experience, and you and your team with peace of mind. 
At TenHats, we believe IT is much more than technology. Our team partners with healthcare organizations to provide comprehensive solutions, support, and data that helps your business adapt and thrive, no matter the situation. You can rest assured when you know you have an entire team of IT and cybersecurity experts proactively keeping your organization and your patients safe.
Is your healthcare organization protected against ransomware attacks?
Talk to one of our experts today
about our cybersecurity services.
Information technology plays an important role in healthcare. It helps you protect the privacy of your patients and can aid in medical research if they consent to it. Information technology reduces negative reactions to medications, lets you share life-saving information with other medical professionals, reduces the risk of medical errors, and protects your organization against ransomware attacks.
TenHats provides comprehensive enterprise-level IT solutions to organizations throughout the southeast. Located in Knoxville, TN, our team of experts has IT experience in every major industry. No matter what, there isn't a problem that's too unique or big for us to solve. Connect with our team about our managed services and data center today!