Which Five Industries Are Most Vulnerable to Cybercrime?
No industry is immune to cyberattacks. Whether it's small businesses, retailers, or manufacturers, there's always the risk of someone taking an unhealthy interest in your data. While everyone is susceptible to these threats, some industries face higher risks with far-reaching repercussions.
They are:
Fortunately, there are steps that organizations can take to protect their information. Partnering with TenHats provides added security that's as scalable as it is reliable. We offer 24-hour protection in the digital and physical world, allowing you to rest easy, knowing your data is secure.  
Which Five Industries Are Most Vulnerable to Cybercrime?
Cybercrime isn't always about money, at least not immediately. In many cases, the data that hackers can steal is just as valuable as the money itself. Some industries and businesses are more vulnerable to cybercrime because they hold important data for individuals as well as organizations. 
1. Healthcare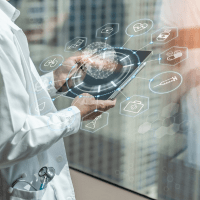 The healthcare industry is a prime target for security breaches of all kinds. Medical devices are especially vulnerable to cyberattacks. While they can do amazing things like monitor your heart rate, engineers don't always build them with security in mind. Hackers can use them to attack a server and steal valuable information. Worse yet, they can take over devices and prevent patients from receiving necessary treatment. 
The number of medical devices on the premises and remotely can be another challenge. Large healthcare organizations can have thousands of medical devices linked to their network, each one a possible entry point. This can leave medical managers struggling to monitor and protect every possible entry point.
Fortunately, there's a lot that healthcare organizations can do to proactively protect themselves and their patients. This could be through regulatory compliance, data encryption, as well as physical security. Another option would be to partner with TenHats. Our expert team can help you architect and optimize private or hybrid cloud environments to prevent unauthorized access to your network from any connected device.
2. Educational Institutions
Educational institutions house a lot of sensitive data, such as:
Faculty records

Financial information

Research data

Student records
These types of data and more can be extremely appealing to hackers. In fact, the education sector saw a 44% increase in cyberattacks in 2022. These institutions have access to all sorts of information and cybercriminals are keen on taking advantage of it.
Educational institutions naturally have a high turnover in their authorized user base—new students enroll each semester, many of whom receive login credentials to sensitive databases—making it especially important to have standardized cybersecurity protocols. Partnering with TenHats will add a much-needed extra layer of security thanks to secure networks, firewalls, dual authentication services, and intrusion detection systems. 
3. Financial Services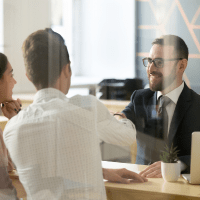 Financial services are another major target for cybercriminals. Not only do banks and investment firms hold financial assets, but they also house  critical information such as:
Names and addresses

Credit card numbers

Social security numbers 
Consumers increasingly prefer electronic payments over cash, meaning banks often rely on web portals, mobile apps, and third-party integrations to provide the best customer experience. Banks are at risk of client-side injection of malicious code, making it especially important for financial institutions to use encrypted servers and threat-detection software. 
From private and hybrid cloud environments to cybersecurity protocols tailored to the financial sector, TenHats can provide the added security that banks, investment firms, and other financial service providers need. 
4. Energy & Utilities
Energy and utility companies are critical to our nation's stability and security. Cyberattacks on our power grids and other infrastructure can have dire consequences. 
As the U.S. Government Accountability Office reported, our grid distribution systems "have grown more vulnerable, in part because their operational technology increasingly allows remote access and connections to business networks. This could allow threat actors to access those systems and potentially disrupt operations."
Power grids and other systems need to be updated as often as possible to remain online. TenHats' data center has the ability to support these essential systems with secure networks and firewalls. Our 24/7 armed guards add another layer of security to help protect critical infrastructure that keeps our digital world running.
See how recent power grid attacks show the need for
energy and cybersecurity
to work together.
5. Government Agencies
Our own government organizations are a popular target among cybercriminals worldwide. Organizations on the local, state, and federal levels hold a lot of sensitive information, including:
Social security numbers

Driver's license numbers

Banking information
If accessed, hackers can use this information for blackmail, fraud, and even espionage. This isn't just a risk for the United States. According to a recent report, cyberattacks in the global government sector rose by 95% in the second half of 2022 when compared to the same period in 2021. 
Experts believe that this massive growth is due to an increase in people working from home during and after the pandemic. This broadened the playing field, allowing for more holes in security. It also shows the need for robust security measures using data centers. With TenHats, you get data and physical protection that secures your information from cyberthreats.
Are you ready to partner with TenHats and level up your organization's cybersecurity?
Contact us
today to start a conversation!
Healthcare, educational institutions, and financial services are always near the top of any list of industries vulnerable to cybercrime. They have access to a wealth of sensitive information, making them ideal targets for cybercriminals. The energy and utilities industries, as well as government agencies, also face cyber threats due to the data they own.
In 2016, TenHats built East Tennessee's first purpose-built colocation data center in over 20 years. Located in Knoxville, TN, our data center can serve any organization in East Tennessee and beyond. With our team's IT experience, we provide a lot more than protected data. When you call us, you talk to a real IT expert. Connect with our team to learn about our data center today!