Periods of exponential growth for your business can be exciting. However, the ability to scale your business to meet resource demand creates new problems. During these periods, it's important to know what options will help you experience sustained growth without stalling out.
Data center virtualization is a virtual version of a traditional data center layered on top of real-world resources. This allows virtual machines to work on individual servers. The benefits of virtualization include improved disaster recovery and shorter downtimes. It works using special software that creates virtual machines to scale your business.
What Is Data Center Virtualization?
Data center virtualization is a process where a virtual version of traditional data centers is created. They include essential data center resources such as:
Servers

Networks

Applications

Storage devices
This allows virtual machines (VMs) to work on individual physical servers. It also enables resources to be used more efficiently and workloads to be managed with increased flexibility.
Virtual data center solutions are possible by utilizing software that creates a virtual layer on top of real-world resources. This allows the VMs to work on the virtual version of physical hardware such as virtual servers. The benefit here is that you enjoy reduced bandwidth requirements, fewer pieces of hardware, and potentially less server maintenance.
Virtualization technology is used in enterprise-level data centers thanks to its ability to:
Improve resource utilization

Simplify management processes

Improve scalability
It's also popular in cloud environments in which multiple clients share physical resources. Whether it's enterprise-level data centers or cloud environments, virtual data centers offer a cost-effective way to streamline management while using virtual resources.
The Benefits of a Virtual Data Center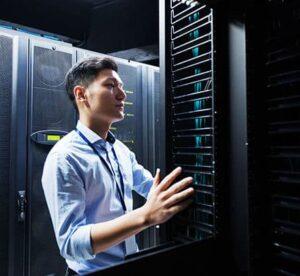 There are plenty of benefits to data center virtualization thanks to the flexibility and customization that it allows. In this way, organizations can optimize their virtual data center to meet certain goals. Along with customization, these data centers also have features that any organization can take advantage of.
Improved Disaster Recovery
It can take some time for a physical data center to get back up and running following a severe disaster. Fortunately, disaster recovery is much easier if you have virtualization solutions. They allow for shorter downtimes by providing access to backed-up data and previous snapshots. This data can be migrated to a new server so that your organization can continue working.
Quicker Replacements
Downtime can occur for a number of reasons in lower-tier data centers. This could be due to:
A disaster 

Routine maintenance, or 

An attack
Virtualization lets you easily migrate job switching and data in just a few minutes. This ensures that you don't experience extended downtimes that hurt your budget and productivity. 
Reduced Costs
Growth can be expensive, and saving money is always a priority. Virtualized data centers allow you to do just that. As your company scales up, virtualization helps you avoid spending too much thanks to its efficiency and flexibility. This includes spending less on compensating for downtime, maintaining hardware, paying electricity costs, and much more.
To learn more about data center tiers and our own data center's capabilities,
click here
!
How Does It Work?
It's one thing to say what data center virtualization is—creating virtual machines on a single physical server. It's also one thing to talk about the efficiency, flexibility, and cost savings that can occur. However, this doesn't explain how they actually work. With a better understanding of how they work, it becomes easier to see how they can benefit your organization.
For data center virtualization to work to your benefit, you must:
Install a hypervisor

Create virtual machines

Allocate resources

Manage virtual machines

Scale up or down
1. Install a Hypervisor
A hypervisor is a unique form of software used to create and control virtual machines. They let you take advantage of your system's unused resources for greater IT mobility. 
2. Create Virtual Machines
With virtual machines, you can take advantage of easier:
Accessibility

Backup

Recovery

Sharing
This leads to improved mobility and flexibility for your business operations and helps maintain business continuity.  
Learn how virtualization can help you better control your
data storage
!
3. Allocate Resources
While virtual machines share physical resources, you still have the ability to allocate those resources to individual machines as you see fit. This ensures that you're making the most of the resources you have available, which can reduce costs.
4. Manage Virtual Machines
Having multiple virtual machines running on a single server allows you to manage and monitor them easily from a central location. This can save you time as you allocate resources as well as perform digital maintenance and monitor performance.
5. Scale Up or Down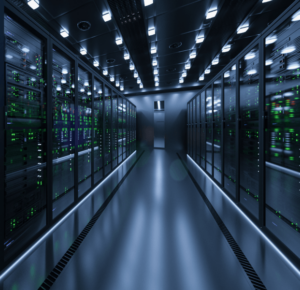 With data center virtualization, your organization will have the ability to remove or add virtual machines based on your needs. Demand can change over time, and this gives you a considerable amount of control over what storage you need. Furthermore, scaling your infrastructure up or down is fast and efficient.
In the end, virtual data centers give you optimized storage options while reducing costs. You never have to sacrifice complexity with virtual machines. Instead, you get lower downtimes, increased efficiency, as well as improved infrastructure that is more scalable and flexible.
Are you interested in discussing what TenHats can do for your business?
Contact us
today and start a conversation! 
Data center virtualization means that a virtual version of a traditional data center is layered on top of real-world hardware and other resources. It works using virtual machines that operate within individual servers. Virtualization has many advantages including improved disaster recovery and downtimes. It uses special software that can help scale your business. TenHats provides virtualization options at our data center located in Knoxville, TN.
In 2016, TenHats built the region's first purpose-built colocation data center in over 20 years. Located in Knoxville, TN, our data center can serve any organization in East Tennessee and beyond. With our team's IT experience, we provide a lot more than simply protected data. When you call us, you talk to a real IT expert, not just security. Connect with our team about our data center today!