Partnering with a managed service provider is an important decision for your organization. Quality IT-managed service providers run your IT infrastructure, allowing you to focus on the day-to-day of your organization. Before you hire one, it's important to know what to look for in a managed services provider, especially when it comes to specific offerings like cloud services and disaster recovery planning.
When looking for a managed service provider for IT, be sure to consider their:
Compliance and regulations
What To Look For in a Managed Services Provider
1. Expertise and Experience
It's important to evaluate the expertise and experience of a managed service provider (MSP) before partnering with them. Some IT firms only specialize in certain technologies and services, or their background may only include a select handful of industries.
To gauge their reputation and track record, look at their client testimonials, industry awards, and certifications. Ask about their:
Technical knowledge and skills

Problem-solving abilities

Tailored solutions

Risk mitigation
The true test of an IT company is how quickly they can respond when something goes wrong. You want to make sure your MSP can resolve issues before something happens.
2. Service Level Agreements
A service level agreement (SLA) outlines the scope of services an MSP offers. These agreements can have a big impact on your business, affecting daily operations and what to expect during an emergency. When it comes to what to look for in a managed services provider, the SLA should be a priority.
SLAs include:
Communication standards for reporting problems

Monitoring and reporting goals

Time to respond and time to restore during an outage

Uptime guarantees

Legal protection if the MSP fails to meet the agreement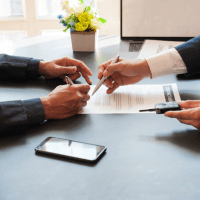 MSPs can often customize these agreements to fit your business's specific needs, such as provisions for data protection, backups, and disaster recovery. They also facilitate clear communication between you and your MSP by defining roles and responsibilities. 
TenHats crafts custom service-level agreements to meet our client's needs and ensure that the services we provide are directly correlated to the challenges our clients face. 
Some MSPs only offer a one-size-fits-all solution, without really looking at what your organization needs. Furthermore, if your MSP won't commit in writing to meeting your goals, that should be a red flag.
3. Range of Services
The range of services offered by an MSP plays a critical part in your final choice. For example, some MSPs have a wonderfully responsive help desk but may not offer enterprise cybersecurity solutions. By evaluating your needs and what different MSPs have to offer, you can find the option that best suits your organization.
MSPs provide a wide range of services for IT solutions. This may include but isn't limited to:
Network monitoring

Cybersecurity

Data backup and recovery

Cloud management

Helpdesk support

Hardware and software management

Strategic technology advising
An MSP's range of services can have a far-reaching impact on the success of your organization. At TenHats, our managed services and data center provides a one-stop solution for all of your needs.
4. Security Measures
When it comes to what to look for in a managed services provider, there's no overstating the importance of cybersecurity. When researching an MSP, be sure to evaluate their security protocols for:
Data protection

Threat monitoring

Incident response procedures
Protocols such as these play a direct role in keeping your data and the data of your customers safe and secure. They ensure that you're able to continue business operations in the event of a cyberattack, and they aid your ability to meet industry standards. Choosing the right MSP strengthens your organization for the long term.
5. Compliance and Regulations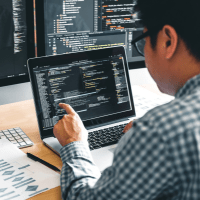 Your business may have specific requirements to meet depending on the industry you're in. For example, TenHats often works with healthcare providers who must meet strict HIPAA requirements. Make sure to discuss your industry compliance regulations with prospective MSPs to ensure they have the capabilities to meet those standards.
Failure to meet certain requirements can lead to legal and financial repercussions. You also run the risk of putting your data at risk if cybersecurity standards aren't upheld. For these reasons and many more, it's essential that you choose an MSP that can help you stay compliant and meet industry regulations.
Are you searching for a managed service provider to suit your IT needs?
Contact us today
to start a conversation.
Gauge an MSP's experience and expertise by reviewing their client testimonials, industry awards, and certifications. SLAs help evaluate an MSP's ability to run systems while avoiding interruptions. Learn what range of services they provide and if they suit you. You should also evaluate an MSP's security protocols to protect your data. Take some time to make sure they will help you stay compliant with any industry regulations, as well.
Located in Knoxville, TN, our purpose-built colocation data center can serve any organization in East Tennessee and beyond. With our team's IT experience, we provide a lot more than great technology. When you call us, you talk to a real IT expert. Connect with our team about our MSP services today!