Information security is as important as the care patients receive. Knowing key cybersecurity facts can help you develop solutions to protect your patients' personal data and your organization's bottom line. It also allows you to create an incident response plan in the event that someone gains unauthorized access to your system.
As the CFO of your healthcare organization, it's important to recognize the threat cyberattacks pose. They are much more common in healthcare than people realize and can cause significant downtime. Fortunately, most organizations have some form of cybersecurity. Partnering with TenHats is the best way to protect your organization's finances and the privacy of patients.
Important Healthcare Cybersecurity Facts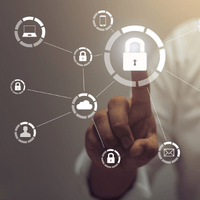 Medical files are a tantalizing prospect for cyber attackers since they contain important financial and personal information. This poses a serious risk for healthcare businesses and practices since there's no telling how this sensitive information will be used following a data breach. Not only do you run a financial risk, but the safety of your patients is also at stake.
According to the American Medical Association (AMA), there are three cybersecurity facts that you should be aware of:
Cyberattacks are more common than you think

Cyberattacks can result in significant downtime

Most practices have some form of cybersecurity
Cyberattacks are More Common than You Think
The AMA's cybersecurity report found that 83% of practices have experienced some type of cybersecurity attack. The common method was through phishing emails—fake emails designed to trick people into sharing personal information. Other methods included:
Ransomware 

Viruses

Malware
Partnering with an enterprise-grade health IT service can help protect you from would-be attackers. Whether it's a phishing scam or ransomware attack, the team at TenHats has a deep understanding of cybersecurity, especially its relation to the healthcare industry. This allows us to find the places where threats could gain access and seal them off to protect your practice.
Click here
to learn why protecting data in healthcare is of the utmost importance!
Cyberattacks Can Result in Significant Downtime
74% of respondents to the AMA report said that an interruption of operations was one of their biggest concerns. What's more, one in three said that they had experienced a practice shutdown due to a cyberattack that disrupted the delivery of care. 
When a shutdown occurs, it affects more than your practice's day-to-day activities. It can also potentially put patients' lives at risk if you can't reach their health records.
Practice shutdowns can vary in how long they last. Some can last for a few hours while others can last days, according to survey respondents:
4% lasted more than two days

​​12% lasted one to two days

20% lasted five to seven hours

64% lasted four hours or less
It doesn't matter how long a shutdown lasts in the end. What matters is getting your practice back up and running so you can serve your patients. The best course of action would be to prevent them from happening to begin with. By partnering with TenHats, you'll have a health information technology company that has your back.
Most Practices Have Some Form of Cyber Security
The majority of physicians have some form of cyber security. Large and medium-sized health systems usually have someone on-site while smaller practices outsource to an IT vendor for cybersecurity solutions. Whatever type they may use, it only goes to show the importance of having a support system to deal with the modern issue of cyber security.
It's common for chief operating officers to think of cyber and physical security as two different things. The truth is that both types are more closely linked than they may realize. Cyberattacks can originate in the real world through simple unintentional actions from employees and administrators. By thinking of them as intertwined, you can create a more holistic security program for your practice.
The Role of CFOs in Healthcare Cybersecurity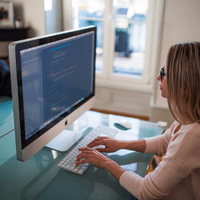 As a CFO, you should be deeply invested in ensuring that your healthcare practice or business has the best cybersecurity possible. Cyberattacks can hold your system for ransom and cause a shutdown. A phishing scam can result in the loss of a significant amount of money. 
Now that you understand the importance of cybersecurity, you need to take action. By working with TenHats, you can develop a plan that protects your bottom lines of profit and patient care.
According to Forbes, there are multiple ways to ensure that both are protected. They include:
Establishing the financial risks

Communicating the risk factors

Implement training to spot scams
Establishing the Financial Risks
Focusing on financial losses is one of the best ways to communicate the importance of cybersecurity to your C-suite. Work with the team at TenHats to show how preventing cyberattacks aligns with overall financial goals. Communicate how a shutdown can hurt the bottom line. 
From there, you can show how partnering with TenHats for healthcare IT can protect:
The bottom line

Patient data

Your practice's reputation
Communicating the Risk Factors
It's easy for people to think your healthcare practice or business isn't at risk of a cyberattack. That is until it happens to them, at least. We can help you identify where cyber threats can gain access to your data. We'll also work together to develop what-if scenarios that show how prepared (or unprepared) your organization is for phishing or ransomware attacks.
Implement Training to Spot Scams
Training is vital if you're going to prevent cyber threats like phishing. Scammers are only going to become more skilled and convincing. That only makes it even more important to train your people to spot a deepfake when it appears. With TenHats, you'll have a partner that can provide your team with the knowledge they need to protect patient information and the organization.
Do you need help getting your healthcare cybersecurity on track?
Contact us today
to start a conversation!
Being the chief financial officer of your healthcare organization means that cybersecurity should be a top priority. They occur more often than you may realize and can cause significant downtime for your team. Most organizations have some form of cybersecurity. By partnering with TenHats and your CISO, you will help protect your organization's finances and the privacy of your patients.
TenHats provides comprehensive enterprise-level IT solutions to organizations throughout the southeast. Located in Knoxville, TN, our team of experts has IT experience in every major industry. No matter what, there isn't a problem that's too unique or big for us to solve. Connect with our team about our managed services and data center today!